Kathy has been a consultant for many training organizations and businesses including Guide Dogs for the Blind, Susquehanna Service Dogs, Tennessee Task Force, Summit Assistance Dogs, Guiding Eyes for the Blind, Texas Hearing & Service Dogs, Paws'itive Teams Service Dog & Therapy Dog Programs, Canis, Canine Craze, Parc Aquarium du Quebec and Sumner Veterinary Hospital. These consultations most often occur on-site, with staff and volunteers in attendance, over the course of one or two days.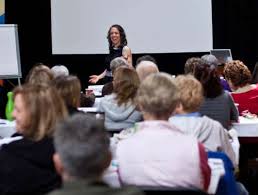 Occasionally, two or more trainers from an organization or business in the Puget Sound area will meet with Kathy at her office in Gig Harbor WA for continuing education and mentoring.
If you're interested in hiring Kathy to teach the staff at your facility, please contact her, by email or phone, for more details about scheduling and pricing.